Book reviews of novels by Douglas Adams/Terry Jones/Patricia Highsmith
Book reviews February 1999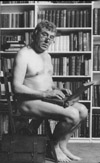 This book is about Starship Titanic, the most technologically advanced spaceship ever built, it was just too bad they hired the wrong men to build it.
The Starship Titanic originated as a few sentences in "Life, Universe and Everything" (part of "The Hitchhikers guide to the Galaxy", but came to real life when The Digital Village was looking for a subject for their first project, a CD-ROM adventure game with state-of-the-art graphics and a natural language parser.
Since Douglas Adams was quite involved in the project, he didn't have time to write the book, so he asked Terry Jones (who has lent his voice to the parrot in the game) to do it. Which he agreed to do, provided he could do it in the nude.
It's a quite funny book, but don't expect it to be a Douglas Adams book, since he hasn't written a sentence (more than the introduction).
I havn't read anything else by Terry Jones, but will try to get a hold of some of his books, cause it would be fun to see what he writes like when all the ideas are completly his owns.
Well, about the book; the ship undergos a SMEF (Spontaneous Massive Existence Failure)...that says it all :).
Read the book, have a jolly good time, but remember....in space no-one can hear you laugh!
---

Patricia Highsmith were born in USA in 1921, but spent most of her life living in Europe. She died 1995.

I came across this book by accident, I was passing by a bookstore and couldn't resist going inside. There they were celebrating their 3,5,7, 2 1/2 or whatever anniversary and prices were cut quite much.
So, I simple bought the series of five books about Tom Ripley since they seemed ok and I wasn't going to be ruined.
Now that I've finished the first one, I think it was pretty good.
It is about young man that is going through life basically doing scams. When he is afraid of being caught in the USA he gets an oppurtunity to go to Europe, all expensives paid for, to try to convince a long-lost son to come home.
Once in Europe he can't help but getting into trouble, and doesn't mind killing people to make his lies look real.
This is a great book, accompany it with a pot of tea and a comfy chair and you'll have a very pleasent evening.
Now I shall dig into book no #2 in the series: "Ripley Under Ground".
---
« (Previous reviews) || (Newer reviews) »
Index of all reviews