Software engineer - freelancer / contractor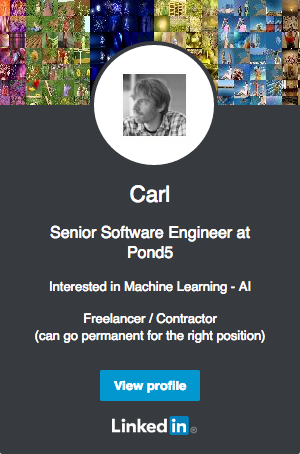 I work remotely for the NYC company Pond5.com, where I was the first engineer hired.
Master of Science in Computing Science
: machine learning, back-end, start-ups, working remotely
: red tape, pointless meetings, slow moving companies
Ability to get things done, innovative, product focused
Linkedin
Twitter
Github
Google+
polyglot software engineer

currently: machine learning, golang, python, php, javascript, aws, linux
in the past: java, c++, perl + loads of other stuff
Example machine learning projects I've created at Pond5:

Pond5 received a best in show award at NAB2018 from RedShark for visual search and the browser extensions.


Finding visual similar items using convolutional neural networks (find closest items + clustering of items)

Browser extensions was an idea I had where I did the coding from proof of concept to released product, notice the ability to remove objects.

Classification of items based on textual data (and other meta data). Used to predict number of people in a video.
Other projects: Contact: