Click on the cover
for a larger image

Cover by
Steve Lee



Click on the cover
for a larger image

Cover by
Josh Kirby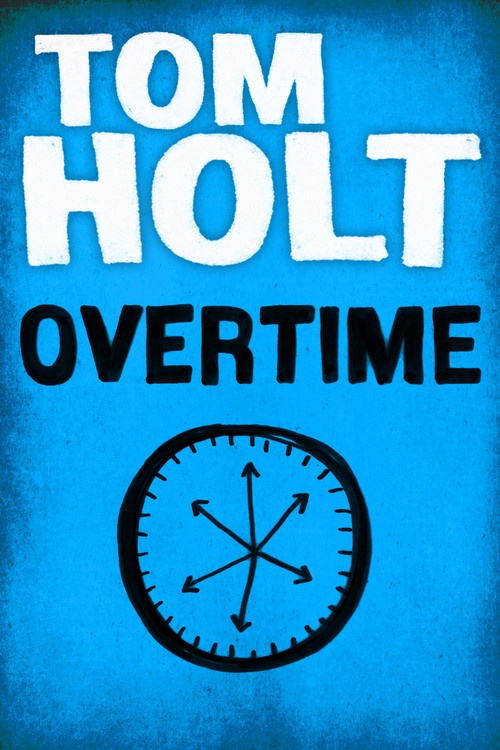 Click on the cover
for a larger image




Click on the cover
for a larger image

German Cover by
?
You can read more about this book at Amazon's websites (where you also can order the book):


See below for information about the German translation
Category:

humourous fantasy


Publisher:

Orbit

, published

1993


ISBN:

1-85723-126-0

, Paperback,

312

pages
Publisher: Orbit, published 1993
ISBN: 1-85723-039-6, Hardback, 256 pages
Publisher: Hachette Digital, published 1 Oct 2009
ISBN: B002TZ3FHO, Kindle edition, 312 pages

This novel is included in the omnibus For Two Nights Only: Omnibus 4.

"Overtime - Introducing the greatest performer of all time and a half"

Book synopsis (The back of the book says)
Only in a Tom Holt novel can you discover the relationship between the Inland Revenue, the Second Crusade and God's great plan to build starter planets for first time life forms...

It all started for Guy Goodlet somewhere over Caen. One moment he was heading for the relative safety of the coast, aware that fuel was low and the Mosquito had more than a few bullet holes in it. The next, his co-pilot was asking to be dropped off. This would have been odd if Peter had still been alive. Since he was dead, it was downright worrying.

But not quite as worrying as when Guy found himself somewhere in the High Middle Ages - rather than in 1943 - in the company of one John de Nesle.
Unsurprisingly, Guy's first thought was to get out and home sharpish. But then he saw John's sister, Isoud, and somehow found himself agreeing to help John, also known as Blondel, in his quest to find Richard Coeur de Lion...
Other people's reviews of this book
Tom Knapp's review
If you have read this book and have written down your thoughts, please mail me the location of your review and I will link it from here.
What critics have said
`Tom Holt's books are quite profoundly agreeable!'
-- Washington Post
In German
This novel has been translated into German and is called:
"Wenn die Zeit aber nun ein Loch hat..."
Amazon Deutschland (Paperback) Wenn die Zeit aber nun ein Loch hat...
ISBN: 3453085310
Paperback,Heyne,1995
348 pages, Size: 17,6 x 11,8 x 2,4 cm

See translated books for other novels translated into German